After listening to the twelfth and last episode of season one of the podcast "Serial" by Sarah Koenig, I am left to consider the facts of the case as she has presented them. It's a compelling and interesting case to say the least and since there hasn't been a definitive conclusion to the story I am left feeling, at least up to this point with the information I have learned, that Adnan Syed should have been found not guilty of the murder of Hae Min Lee.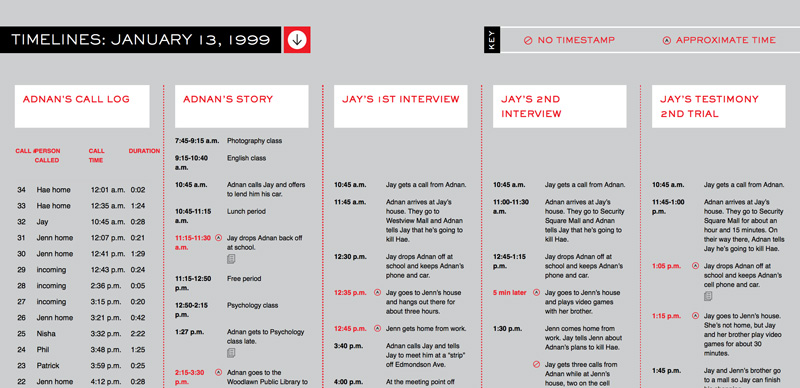 The key witness, Jay Wilds, seems to change his story as things move along and the details are inconsistent making his testimony unreliable to me. During this episode, Koenig reviews how Jay stated that he had called Jenn's house phone at 3:21pm but both Jay and Jenn stated that Jay was at her house until 3:45pm (Koenig). Why would Jay have called Jenn if he were already at her house? Another witness from the trial, Jenn, testified that later on in the evening she had picked Jay up at Westview Mall after he had helped Adnan bury Hae and they threw his clothes out in a dumpster the next day, but Jay says she had picked him up at his house and he disposed of the clothes there (Koenig). By viewing the maps, documents, etc. page on Serial's website, you can really see how Jay's timeline and story of the day's events change ("Timelines: January 13, 1999"). In some additional research I did on Jay, I found that even though he refused an interview with Koenig for Serial, he did do an interview with "The Intercept" where once again he changed his story from any version previously provided (Views of the News). In my mind, this makes it hard to understand how anything he says could be considered as accurate enough to use as evidence to convict Adnan.
Another factor that supports my conclusion is that Episode 12 draws to light the fact that the DNA evidence from the scene was never tested (Koenig). This detail is quite surprising to me since it would seem an obvious requirement in a case that is lacking any direct evidence in the case that would link Adnan to the murder. Adnan states by interview that "he wants the DNA tested. There is nothing about my case that I'm afraid of" (Koenig). In addition to this, Koenig mentions that there was a possible serial killer, Ronald Lee Moore, in the area at this time that was found to have murdered another Korean girl by strangulation and buried her body in a different park 11 months prior (Koenig). This case also was a cold case until the DNA was tested and matched. Conveniently, Mr. Moore had just been released from jail January 1, 1999 in Baltimore – 13 days prior to Hae's murder (Koenig). I feel that there is a strong case for the possibility that if the DNA were tested it might match Mr. Moore or at minimum, not match Adnan which would prove he's not the killer and has wrongfully been convicted this entire time.
During Koenig's closing, she comments that if the call log doesn't support Jay's story and if the Nisha call cannot be used as concrete evidence, the only proven fact they have is that Jay knew where the car was. If she were a juror, this alone would not be enough to convict Adnan with (Koenig). Adnan would need to be proven guilty beyond a reasonable doubt. This is the standard of evidence required to convict someone of a criminal offence ("Reasonable doubt"). Since the completion of episode 12, a judge has granted a new trial in the case further supporting this idea that the original trial may not have provided Adnan with a fair and adequate representation of the facts (ABCNews). With all the evidence that can be questioned and what seems like a total lack of anything that actually connects Adnan to the murder itself, much like Ms. Koenig I too agree that Adnan should not have been found guilty in this case.
Works Cited
ABCNews. "Serial's Adnan Syed 'Not Convicted Anymore'" YouTube. YouTube, 02 July 2016. Web. 09 June 2017. <https://www.youtube.com/watch?v=q64wO4no-gU>.
Koenig, Sarah. "Episode 12: What We Know." Serial. Serial Podcast, n.d. Web. 09 June 2017. <https://serialpodcast.org/season-one/12/what-we-know>.
"Timelines: January 13, 1999." Serial. Serial Podcast, n.d. Web. 09 June 2017. <https://serialpodcast.org/maps/timelines-january-13-1999>.
Viewsofthenews." Views of the News: Jay talks, slams 'Serial' podcast." YouTube. YouTube, 07 Jan. 2015. Web. 07 June 2017. <https://www.youtube.com/watch?v=RnIMwzs5h8g>.
"Reasonable doubt." Wikipedia. Wikimedia Foundation, 08 June 2017. Web. 09 June 2017. <https://en.wikipedia.org/wiki/Reasonable_doubt>.